Trauma is not something to be 'managed' – but eliminated entirely.
Sound far-fetched? It's not. Neuroscience has shown that trauma can be removed completely. Indeed, the brain has an in-built mechanism for doing just that. It is called memory reconsolidation.
This new book by therapist Alun Parry shows you how to use that mechanism to remove trauma for your clients. It reveals the exact steps the brain needs so that trauma can be removed reliably and consistently. It shows you how to apply them to your work in the therapy room, step by step.
It provides you with a road map that increases your potency and effectiveness as a therapist.
As a result, clients struggling with depression, anxiety, attachment difficulties, self-worth issues, and many other trauma leftovers transform suddenly and for good. No relapse. No ongoing exercises. Just a complete and effortless transformation.
Would you like to gain mastery of the brain's in-built healing process and get regular, spectacular results?
In this book launch interview, John Wilson from Onlinevents speaks with the author of How To Remove Trauma Response: A Memory Reconsolidation Guidebook for Therapists & Coaches.
There are bonus book resources including
Trauma Removal Roadmap
Video training to accompany the roadmap
7 more free downloadable resources to help remember and implement the key ideas
A free FB community for those interested in the book
These are available at https://removetrauma.com
This workshop will be recorded and you can use the ticket function to pre-purchase the recording before the event. This will be useful for colleagues who are not able to attend the event live and also for those who attend the event live and want to watch it again.
This workshop will be hosted on the Zoom meeting platform where we will use our camera and microphones to interact with each other as a group.
Message from Onlinevents: To support practitioners in this time of extraordinary circumstances we are offering access to this group for a self-select fee. The self-select fee is a radical inclusion policy to open learning for all colleagues. The guide price for this event is £20.00, however, we appreciate that income varies greatly in different locations and circumstances. Please contribute what you can to help us maintain inclusive professional training.
Take The Next Step
Discover the neuroscience breakthrough that removes trauma and learn how to apply it.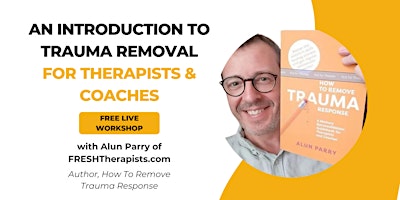 Secure your spot for my forthcoming FREE Online Live Training Workshop:
An Introduction To Trauma Removal For Therapists & Coaches
Click here to check dates and secure your spot
My Flagship Program - The Memory Reconsolidation Elite Coaching Academy:
Committed to becoming an expert at removing trauma? Accelerate your growth and mastery in applying memory reconsolidation techniques. Dive deep into a transformative learning journey. This program is your pathway to becoming a leading trauma therapist or coach.
Click here to learn more
How To Remove Trauma Response:
A Memory Reconsolidation Guidebook For Therapists & Coaches by Alun Parry
Get my 5 star rated top selling book on trauma removal.