How To Remove Trauma Response by Alun Parry is available on Kindle or paperback.
Amazon USA | Amazon UK | Amazon CA | Amazon AU
Trauma is not something to be 'managed' – but eliminated entirely.
Sound far-fetched? It's not. Neuroscience has shown that trauma can be removed completely. Indeed, the brain has an in-built mechanism for doing just that. It is called memory reconsolidation.
This book shows you how to use that mechanism to remove trauma for your clients. It reveals the exact steps the brain needs so that trauma can be removed reliably and consistently. It shows you how to apply them to your work in the therapy room, step by step.
It provides you with a road map that increases your potency and effectiveness as a therapist.
As a result, clients struggling with depression, anxiety, attachment difficulties, self worth issues, and many other trauma leftovers transform suddenly and for good.
No relapse. No ongoing exercises. Just complete and effortless transformation.

Would you like to gain mastery of the brain's in-built healing process and get regular, spectacular results?
Amazon USA | Amazon UK | Amazon CA | Amazon AU
Take The Next Step
Discover the neuroscience breakthrough that removes trauma and learn how to apply it.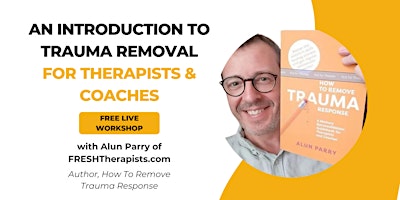 Secure your spot for my forthcoming FREE Online Live Training Workshop:
An Introduction To Trauma Removal For Therapists & Coaches
Click here to check dates and secure your spot
My Flagship Program - The Memory Reconsolidation Elite Coaching Academy:
Committed to becoming an expert at removing trauma? Accelerate your growth and mastery in applying memory reconsolidation techniques. Dive deep into a transformative learning journey. This program is your pathway to becoming a leading trauma therapist or coach.
Click here to learn more
How To Remove Trauma Response:
A Memory Reconsolidation Guidebook For Therapists & Coaches by Alun Parry
Get my 5 star rated top selling book on trauma removal.