For the past year, I've been working hard on my book How To Remove Trauma Response.
Some big news! The final proof has just been approved, so the book is being made as we speak. Keep your eyes peeled for the official release date.
Below is a sneak preview of the book chapters:
Chapter 1: How To Use This Book
Chapter 2: What Is Memory Reconsolidation?
Chapter 3: The Breakthrough in Neuroscience
Chapter 4: The Eternal Sunshine of the Spotless Mind?
Chapter 5: The Seven Steps of Transformational Change
Chapter 6: Putting It All Together
Chapter 7: Triggering Transformational Change
Chapter 8: How Not To Miss Memory Reconsolidation
Chapter 9: Creating Imaginal Mismatches
Chapter 10: A Road Map For Imaginal Work
Chapter 11: Harvesting Old Feelings
Chapter 12: Identify Opposite Feelings
Chapter 13: Build A New Scene
Chapter 14: Experience The New Scene Imaginally
Chapter 15: Troubleshooting Imaginal Work
Chapter 16: How to Know If Change Has Occurred
Chapter 17: Imaginal Work – A Recap
Chapter 18: Conclusion
I'm REALLY excited to get this book to you.
Take The Next Step
Discover the neuroscience breakthrough that removes trauma and learn how to apply it.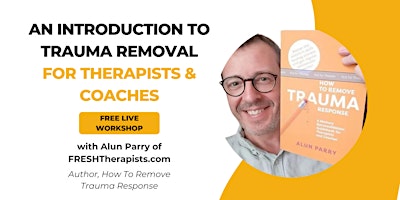 Secure your spot for my forthcoming FREE Online Live Training Workshop:
An Introduction To Trauma Removal For Therapists & Coaches
Click here to check dates and secure your spot
My Flagship Program - The Memory Reconsolidation Elite Coaching Academy:
Committed to becoming an expert at removing trauma? Accelerate your growth and mastery in applying memory reconsolidation techniques. Dive deep into a transformative learning journey. This program is your pathway to becoming a leading trauma therapist or coach.
Click here to learn more
How To Remove Trauma Response:
A Memory Reconsolidation Guidebook For Therapists & Coaches by Alun Parry
Get my 5 star rated top selling book on trauma removal.