In this video (and the article below) I show you how to work with the client belief of "I am not enough."
Don't miss my next article/video, sign up below:
In this post, I want to talk about when clients feel "I am not enough." It's a really common thing that people bring. And it's a really common thing for therapists to struggle with. What can we do to work in such a way that we can help someone who believes that "I am not enough"?
There are three things I'm going to look at here:
What it means
What is the block
Overcoming the block
What it means
The first thing is to find out what "I am not enough" means in reality. It can mean a lot of things to different people.
So when someone says "I am not enough" we need to put that in some context.
I often use a question from Solution Focused Therapy which is "what would it look like if you were enough?"
So fast-forward until after the work has been successful. What does that look like? What would they be doing? How would they notice that they were enough? How are they going to know success when it arrives?
Asking that question allows them to envisage a place where they already are enough and let us know what it is they would be doing, acting, behaving, thinking and feeling.
It allows us to get a real picture (and crucially lets the client get a real picture) of what they want. It becomes crystal clear. They are able to visualize it, to know when they've reached it, and can emotionally connect to it.
They can go to that place and imagine themselves being that person, and that leads us to the next stage, which is to discover what the block is.
What is the block?
Why don't they just become that person? The reason is that it doesn't feel safe to be that person. If we ask the client to imagine being that person, there will be a set of aversive bodily sensations kicking in to yell "stop!" It doesn't feel safe.
We are already starting to gather good information here. The client is sharing that the reason why they choose to believe "I am not enough" is that it's not safe or at least doesn't feel safe enough to let that belief go.
It makes sense that they hold on to that belief.
By asking them to imagine being the person who is "enough", we gently provoke that bodily discomfort so we can start to investigate it together.
We can ask: Why is it that it doesn't feel safe? What is the danger?
It helps us reach a core prediction which essentially says:
If I allow myself to be that person who is enough then……
Allow them to finish the sentence.
Let them discover and share the core prediction that predicts something unpleasant.
The predicted unpleasant outcome could be a whole host of things. It could be that they believe they will receive violence. It could be that they believe they'd be disowned or lose love. It could be that they believe they'd be mocked or ridiculed – and many other possible predictions.
Whatever it happens to be, there'll be some sort of core prediction of an unpleasant outcome. Moreover, this feared unpleasant outcome Is, in their calculation, worse than not feeling "enough."
Keeping the belief of "I am not enough" is the better option compared with the predicted consequence of letting it go.
Overcoming the block
Once we know what this core prediction is then replacing it becomes the goal of therapy. After all, if the prediction was "if I allow myself to be enough then good things will happen", change would be easy.
They're holding onto that belief system for a very good reason. It protects them from a worse outcome, at least as they currently see it.
Now we have discovered the core prediction that keeps the unwanted belief alive, we can then go about helping to mismatch that.
We can generate mismatches on a number of fronts:
beliefs, and decisions
unmet needs
feelings, emotions and nervous system responses.
Our aim now is to attempt to either create or discover opposites to the core prediction. The client can then update their learning, so long as it is done in the way the brain needs. They end up with a different and happier prediction.
You can harvest these mismatches in a number of ways.
We can go digging for opposites. One of my favourite questions begins with: "Tell me about a time…."
Here I'm asking a prediction breaking question: "Tell me about a time where you did feel or act as if you were enough, and it went okay."
We connect them to those times where their old prediction did not come true. We are helping them to notice the prediction error.
You can also be alert to mismatches and opposites. The client might share something spontaneously as they talk about their life. You, as the therapist, can spot that this is an instance of the prediction breaking. You can then work with this in the session.
Another approach is to try and find a scene that represents where this learning was created, and then guide them to re-imagine it in their favour so that their needs are completely met.
As a result of their needs being met, they have positive feelings from the scene instead of the usual negative ones. Experientially, the old prediction that this scene leads to something bad is updated with a new prediction. They repeatedly experience an imaginal scene instead that generates a new prediction.
The scene chosen for the imaginal work might be the time when they first learned the old prediction. Or it may be the time that it was most deeply reinforced. We are looking for a time where "I am not enough" was the safest option in their old environment.
In the new scene, instead of acting as if they were enough and are punished for it, the reimagined scene goes entirely in their favour. They experience a good outcome from being enough.
By repeatedly doing this reimagining, it triggers memory reconsolidation and the brain updates its learning. The client now operates from this new prediction and the old belief falls away.
Any of these mismatches can potentially be used to do the steps of memory reconsolidation, which is
join the old prediction with an experience of that prediction breaking
repeat that bumping together to update the learning
You can find out more about memory reconsolidation and how it works elsewhere on this site.
Of course, an underlying potential mismatch is the therapeutic relationship itself.
The client brings a belief that "I am not enough" and the therapist helps create a relational experience where we convey "you are enough." The relationship itself has the potential to be a powerful mismatch experience.
SUMMARY
In exploring how to work with a belief of "I am not enough", we have looked at
what does "I am NOT enough" and "I AM enough" look like?
what are the blocks to allowing oneself to believe "I am enough"?
some ways to begin overcoming that block with the client
Don't miss my next article / video, sign up below:
Take The Next Step
Discover the neuroscience breakthrough that removes trauma and learn how to apply it.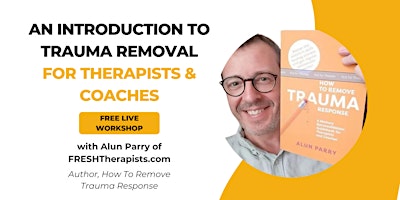 Secure your spot for my forthcoming FREE Online Live Training Workshop:
An Introduction To Trauma Removal For Therapists & Coaches
Click here to check dates and secure your spot
My Flagship Program - The Memory Reconsolidation Elite Coaching Academy:
Committed to becoming an expert at removing trauma? Accelerate your growth and mastery in applying memory reconsolidation techniques. Dive deep into a transformative learning journey. This program is your pathway to becoming a leading trauma therapist or coach.
Click here to learn more
How To Remove Trauma Response:
A Memory Reconsolidation Guidebook For Therapists & Coaches by Alun Parry
Get my 5 star rated top selling book on trauma removal.